Title: Illusions of Fate
Author: Kiersten White
Genre: Young Adult, High Fantasy
Release Date: 9 September, 2014
Source: HarperTeen via Edelweiss
Goodreads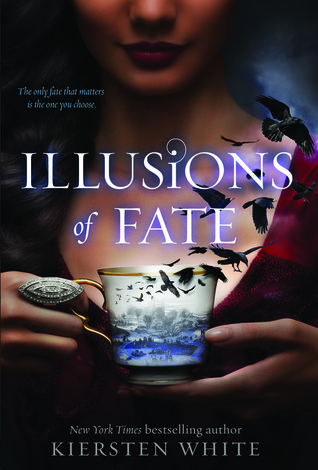 Downton Abbey meets Cassandra Clare in this lush, romantic fantasy from New York Times bestselling author Kiersten White.

"I did my best to keep you from crossing paths with this world. And I shall do my best to protect you now that you have."

Jessamin has been an outcast since she moved from her island home of Melei to the dreary country of Albion. Everything changes when she meets Finn, a gorgeous, enigmatic young lord who introduces her to the secret world of Albion's nobility, a world that has everything Jessamin doesn't—power, money, status…and magic. But Finn has secrets of his own, dangerous secrets that the vicious Lord Downpike will do anything to possess. Unless Jessamin, armed only with her wits and her determination, can stop him.

Kiersten White captured readers' hearts with her New York Times bestselling Paranormalcy trilogy and its effortless mix of magic and real-world teenage humor. She returns to that winning combination of wit, charm, and enchantment in Illusions of Fate, a sparkling and romantic new novel perfect for fans of Cassandra Clare, The Madman's Daughter, and Libba Bray.
Review by Nara
Illusions of Fate is most definitely my favourite of Kiersten White's books so far. The characters are fantastic and the plot is both intriguing and compelling. Set in a fantasy world that parallels Victorian era Earth, there's some solid world building as well as that characteristic Kiersten White humour.
(And sidenote: wow that cover! It's seriously just the perfect cover. It has that touch of magic, as well as giving that hint of the historical/Victorian-like genre and omg that font. It's just so pretty. Seriously considering buying myself a copy of this book just to have it on the shelf).
Let's talk about the love interest. Ah, Finn. Finn was great. I must admit, I had my doubts about him initially- he seemed a bit too arrogant, a bit too secretive and a bit too forward- but as the book goes on, he becomes a much more likeable character. We see that he's incredibly sweet, witty and intelligent. And I suppose the justification for all his secrets was reasonable enough.
I honestly wish this book wasn't a standalone. I feel like so many more things could be explored in this world, and the characters are awesome, and I just think this could become a very fun series. That being said, everything was wrapped up very nicely in this one book- no threads of mystery, action or romance are left hanging.
Well, as I said before, Illusions of Fate is certainly one excellent book. With a nice balance of romance, action, mystery and world building- this book is one you should read if you enjoy lighter high fantasies.
Really liked it
Ratings
Overall: 8/10
Plot: 4/5
Writing: 4.5/5
World Building: 3/5
Characters: 4/5
Cover: 4.5/5